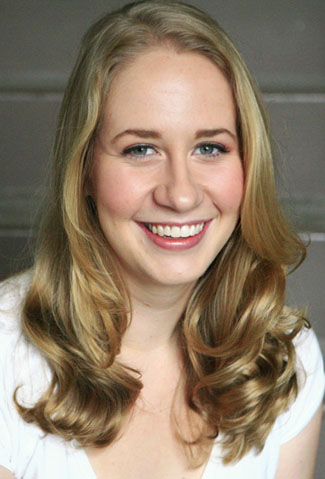 Praised by the San Francisco Chronicle for "her bright and impeccably focused soprano" and "torrents of alarmingly precise figuration," Sara Hagenbuch is lauded for her work as both a soloist and chorister. Sara has performed in the San Francisco Bay Area with groups such as the Handel Opera Project, San Francisco Contemporary Music Players, Black Box Baroque, Opera on Tap, Opera Theater Unlimited, and the St. Dominic's Schola Cantorum. Her most recent performances include Aci in Handel's Aci, Galatea, e Polifemo and Morgana in Handel's Alcina with Black Box Baroque. As Morgana, Sara was praised by San Francisco Classical Voice for her "well-grounded voice… Her trills and ornaments were excellent, and her lively "Tornami a vagheggiar" left more than one audience member humming at intermission."
Ms. Hagenbuch is passionate about early music and historical performance practice, particularly the music of G.F. Handel. She is the founder of Bay Area opera company Black Box Baroque. Black Box Baroque performs Baroque opera in intimate spaces with the highest caliber musicians and a focus on bringing the story to life. Productions take place in small black box theaters with snacks, drinks, seats close to action, and a casual, welcoming atmosphere. As an entrepreneur, Sara has been described as "nothing if not daring" for her bold repertoire choices in small spaces (Exotic and irrational entertainment).
Sara spent six years as the soprano II section leader with the St. Dominic's Catholic Church Schola Cantorum, singing as a soloist and chorister in varied repertoire from Gregorian chant and Renaissance masses to contemporary commissions. As a chamber musician, she sang in the world premiere of Sheli Nan's Last Stop Café, and in Steve Reich's Music for 18 Musicians with the San Francisco Contemporary Music Players. Of her singing in the Reich, New Music Box writes, "high soprano Sara Hagenbuch deserves recognition for her stamina and precision throughout."
Sara's favorite Handel roles include Dalinda (Ariodante), Dorinda (Orlando), Morgana (Alcina), and Antigona (Admeto). Other roles include Seleuce (Handel's Tolomeo) and Dircé (Cherubini's Médée) with the Handel Opera Project, Despina (Così fan tutte) and Sister Anne of the Cross (Dialogues of the Carmelites) at the San Francisco Conservatory of Music, La Chauve-Souris (L'enfant et les sortilèges) and Arminda (La finta giardiniera) at Ithaca College, and Suor Genovieffa (Suor Angelica) with Bay Area Summer Opera Theater. During her studies in New York, Ms. Hagenbuch was a featured soloist with the Ithaca College Choir in John Corigliano's Fern Hill, and with the Ithaca College Wind Ensemble in Michael Daugherty's What's that Spell?, a pop cantata for two Barbie-sopranos.
Ms. Hagenbuch is a graduate of the San Francisco Conservatory of Music with a Master's Degree in Voice Performance. She received her Bachelor's degree summa cum laude from Ithaca College in Voice Performance with a minor in Communication Disorders. Sara resides with her husband and kitten in the Philadelphia area.